Opioid abuse is a growing public health crisis and the leading cause of accidental death in the United States. It is important for all of us to be aware of the signs and symptoms of opioid abuse and overdose, as well as to understand how to properly administer naloxone.
Naloxone (Narcan) is a safe and effective medication used to reverse the effects of an opioid overdose and can be given by anyone with proper training. The FDA recently approved over the counter use and distribution for this life saving, non habit-forming medicine.
Narcan Kits on Campus
To support this effort, Montclair State University Emergency Medical Services (EMS) has installed naloxone kits supplied by the New Jersey Department of Health in the AED cabinets across campus, which are located in highly visible areas such as academic buildings, residence halls and administrative offices. University Police and EMT's currently also carry naloxone kits.
Training on How to Use Narcan
We encourage all members of our community to learn more about the signs and symptoms of opioid overdose and how to safely administer naloxone by watching the brief training video below (with closed captions). Click on the image below to view the video.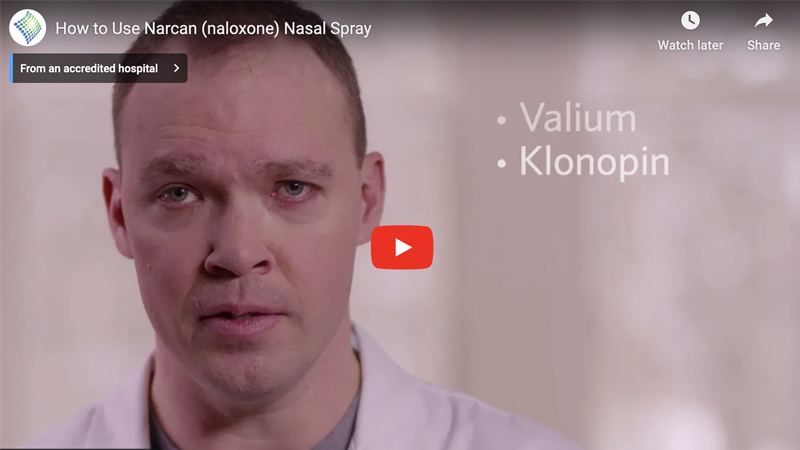 If you or a loved one are struggling with opioid addiction, the office of EMS has, free of cost and judgment, Narcan kits available as well as in-person training sessions on opioid abuse awareness and naloxone administration. EMS is located in the Student Center Annex, Rooms 207 and 209.
In the event of an emergency, please contact University Police at 973-655-5222. For students struggling with mental health or substance abuse, support is available at Counseling and Psychological Services (CAPS), the Student Health Center and Health Promotion. For staff members, support is available through the Employee Assistance Program.
Questions? Want to Make a Training Appointment?
If you have questions or would like to make an appointment for training how to use a narcan kit, please email or call Michelle Kight at: kightm@montclair.edu | 973-655-7836.